Check-In / Check-Out Times
Check-in time id 4:00 p.m. and check-out time is 10:00 a.m. We always try to be as flexiable as we can. Please let you reservationist know your arrival times so we can better accommodate your needs.
Deposit
For reservations made 30 days prior to the arival date, a deposit of 30% of the entire rental amount plus the $25 processing fee is required to confirm your reservation. At 30 days prior to arrival date the balnce of the entire rental maount is due.
If the reservation is less than 30 days prior to the arrival date the full amount for the rental is due at the time of the reservation.
Cancellation Policy
There is a $25 processing fee to confirm you reservation. Cancellations made 30 days or more in advance of your arrival date will receive a fill refund (minus the $25 processing fee). There are no deposit refunds for cancellations less than 30 days from the arrival date (including the $25 processing fee).
There are no refunds for poor snow conditions,severe weather or early departures.
Christmas and New Year's week there is a one week minimum. After December 15 the one week minimum is lifter for Christmas week (15% Cancel Fee).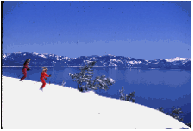 Key Pickup
Your arrival package and keys wil be available 24 hours a day 7 days a week at the Alpine Exchange.
When members of your party are arriving at different times and from different places, make sure you co-ordinate who will be picking up the keys. The person's name who has made the reservation must sign for the keys. If this is not your plan please contact us to have you sign your arrival sheet ahead of time.